Paulburgess.Org Is Four Years Old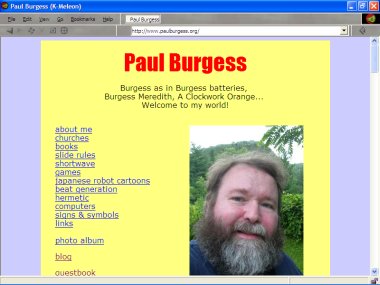 Well, my personal website,
paulburgess.org
, is four years old today.
Yes, the oldest entry in my personal site's guestbook is dated August 20, 2001. That was back long before I had a blog, long before I'd ever even heard of the blogosphere. I spent some of my spare time in the summer of 2001, teaching myself HTML and cobbling together a personal website. I'm afraid my personal website looked rather retro, even back in those days. Which today makes it like a coelecanth dredged up out of the ocean depths.
The original URL of my site was
http://hosting.acegroup.cc/~pburgess,
which I think may still work. My site was hosted (and still is) with my small local ISP. I registered the
paulburgess.org
domain name a few months later.
At first the pictures on paulburgess.org were limited to screenshots, digital photos taken and emailed to me by friends, and a few pictures I borrowed from elsewhere. (I actually went to the trouble of getting permission from a site over in Japan to use some of their Japanese anime pictures.) I divided the website into a briefer introductory section "above the fold," where I showcased several of my hobbies and interests for quick and easy perusal. "Below the fold" was a much more extensive collection of stories I'd written over the years, and philosophical ramblings drawn from my journal on my hard drive, as well as from letters to two longtime friends who were kind enough to grant me permission to spread our joint insanity before the world.
I eventually got a digital camera, which made it easy to add to my site all the pictures I wanted. The
photo album
on my site contains zillions of photos (a few video clips, too) of me and my parishioners. I've also added "below the fold" some digitally-oriented material (such as an
audio clip
of me speaking in that language I created), and some rather technical research papers. In short, over these past four years
paulburgess.org
has just kept growing and growing.
Paulburgess.org gets a modest but steady stream of traffic. Not much overlap with the visitors to my blog, who are mostly fellow bloggers. I've gotten quite a pile of email correspondence over the years from visitors to
paulburgess.org:
folks interested in some of my
semi
-
technical
and
sesqui-technical
writings on mysticism; inquiries about
Jack Kerouac
; remarks on my
hippy-dippy Sixties
tendencies; questions about how to set certain things up in
Linux
; and recently someone who wanted to query me in extensive detail about an
old science-fiction story
I'd written. The visitors to a personal website tend to be a wild, wooly, diverse lot.
So
paulburgess.org
is four years old. The Internet is not quite the same place today that it was four years ago. Sets a body to pondering on how different cyberspace will be, four years, or fourteen years, or forty years from now.
Labels: computers