Le Knife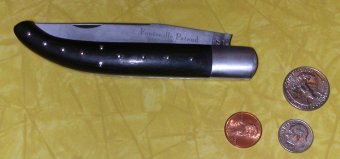 Here's a cool knife I got recently. Basque yatagan knife, handle of ebony wood. Stainless steel blade almost four inches long. Ordered it (like an increasing number of my purchases lately) over the Internet.
This knife was produced by French knifemaking artisans, in the town of Thiers, which is the center of French cutlery. Produced by hand, the old fashioned way.
Their site
has all sorts of cool photos of master knife artisan dudes working over anvil and vise with hammer and file.
The knife has a solid, balanced feel in the hand. Opening the blade feels like opening the door on a Cadillac. You can't beat quality.
And note that decorative design hand filed into the steel back of the knife.
From now on, when I need a knife around the house, I won't have to go running for the carving knife out in the kitchen any more.
Labels: gear