The New Japanese Chess Board Is Here!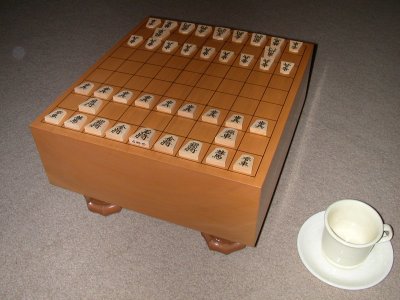 Yes! It arrived this morning, all the way from Japan! The
new
Japanese Chess board, a block of solid wood, thick as a butcher block, standing on legs, a thing of rare beauty. It arrived this morning from Japan, and I am simply going out of my game-addled gourd!
Game fanatic
that I am, I've been fascinated with Japanese Chess, or Shogi, ever since age 14 or 15. Of course back in those days— we're talking early 70s— there was no way on earth that I, living in the American Midwest, was going to latch onto a
quality
Shogi set. So I made do with what I could: a homemade set I turned out myself; a cheap little travel set from Japan. For many years, I made do.
Fast forward to a bit over a year ago, when at long last I found a site called
Hirohurl.net
, which offers
beautiful Shogi pieces and Shogi boards
,
and
which is written in English. So I ordered a folding wooden Shogi board, and some Siamese boxwood Shogi pieces with Japanese characters incised into them.
I was very pleased
with these items, and with the service provided by David Hurley, the mastermind behind Hirohurl.net.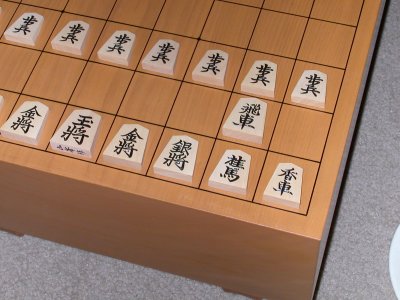 Recently the idea entered my mind of getting a
really
nice traditional Shogi board— like I say, solid wood, thick as a butcher block, standing on wooden legs. Boards like these are not cheap, you understand; and the thicker they are, the costlier. What I had in mind turned out to be a custom order. I emailed David Hurley, and he was very helpful in obtaining for me the kind of board I was looking for.
He packed it very, very carefully, too. And this morning Mr. Mailman showed up on my front step with an express package from Japan.
The new Shogi board is made of katsura wood from the island of Hokkaido. It measures 13" by
14 1/4",
and the board is about
4 5/8"
thick. The wooden legs underneath the board are
3 5/8"
tall, so the entire thing stands about
8 1/4"
high.
It's heavy. Heavy! I don't have any scales handy, but just hefting it, I'd hazard a good 15 or 20 pounds as a ballpark estimate. And underneath, on the bottom of the board, is carved the traditional pyramid-shaped hollow in the wood.
This is the kind of Shogi board I've been dreaming about for 35 years now. It's an absolutely beautiful board, and it really is a dream come true.
Update, 9/07:
Hirohurl.net is now
Japanese Games Shop
.